When I flipped the last page of the Game of Thrones novel, I realized that I was now part of a new clan of people who had read a George R. R. Martin book. This went beyond the traditional mantra of "the book is always better." I haven't read any other epic sagas ( ala Lord of the Rings) and more traditional trilogies are not of the same calibre. I am now on the "inside" and frankly, it brings about a sense of superiority that I haven't experienced in other cases where I had read the corresponding novel to a pop culture cinematic hit. I won't call it arrogance, but just a level above.
When my friends heard my grand announcement (I tried to get trumpets, but had to settle for bolded text on my Facebook status), they immediately either encouraged me with a hint of a warning because they too had read the series, or they had only watched the HBO TV rendition and wanted to know how the book compared.
The first thing that I will cop to is that while watching the first season of "A Game of Thrones" when it originally aired, I didn't like it. I thought there were too many characters, too much gratuitous nudity and sex, and it wasn't my taste in television genres. My husband encouraged us to watch it, and after an episode or two, he began to read the books and fell in love. As anyone with any knowledge of the carnage that these books bring with them, he was not eager to have to watch a series of painful events after having just discovered them within the pages of his Kindle. Fair enough. So we stopped watching.
Eventually, we began watching the series again, and are now completely caught up. I've been told that only the first book and the first season of the series hold almost completely true to one another, so much like Jon Snow, I know nothing about what could be coming as I begin reading A Clash of Kings.
When it comes down to it, I am a book lover and appreciate the nuances that one gains from reading a detailed story, gaining insight that cannot always be translated to the screen, television or bigger. Having read the book, of course I gained these advantages, but I was also able to secure a better understanding of the plots, the back-stabbings, the connections between the many, MANY layers of characters and family bloodlines. It's a major kudos to the tv series creative staff that they were able to so eloquently and truthfully bring George R. R. Martin's work to life.
Right now, there are subtle differences between how Martin described his characters and how they are portrayed on tv: the characters are much younger in the books, Tyrion is not nearly so handsome (the opposite actually) as Peter Dinklage, etc.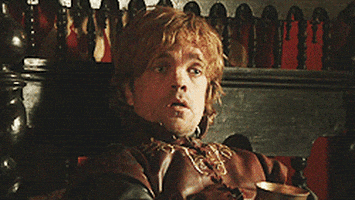 Frankly, I feel more sympathy for the characters in the book, and I took another heavy emotional blow as each one suffered on the page. I can imagine that as the plot changes as the series moves forward, there will be more to say, a stronger comparison, between the novels and the tv series.